CROSS-BATTLE SELECTED FOR VOLLEYBALL HALL OF FAME
HOLYOKE, Mass. (May 2, 2014) – The Volleyball Hall of Fame announced today the names of six volleyball legends who will be inducted as the Class of 2014 into its hallowed halls on Oct. 18 in Holyoke, Mass., the sport's birthplace.

The 29th induction class consists of female indoor volleyball players Tara Cross-Battle of the United States and Roza Salikhova of the former USSR, male indoor volleyball player Nalbert Bitencourt of Brazil, female beach volleyball great Sandra Pires of Brazil, indoor coach Joop Alberda of the Netherlands and leader Miloslav Ejem of Czech Republic.
"The 2014 Volleyball Hall of Fame class represents six remarkable individuals who elevated the sport to new levels in their countries and on the international stage," said Doug Beal, co-chair of the Volleyball Hall of Fame Selection Committee. "This induction class, with diversity of gender, country and discipline, continues to uphold the highest qualities of the game through its athletes, coaches and leaders."
The induction class is elected via a vote of current Volleyball Hall of Fame inductees. A total of 21 different countries are represented in the Volleyball Hall of Fame with at least one inductee. All told, 121 individuals will have been inducted into the Volleyball Hall of Fame after this year's enshrinement ceremony.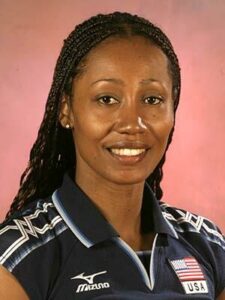 "Joop Alberda led Netherlands Men's Volleyball into a golden era in the 1990s, then transitioned his skills to the Dutch Olympic Committee for several years," Beal said. "Nalbert Bitencourt was a multi-dimensional star in the early 2000s and led Brazil to the Triple Crown of gold medals. Tara Cross-Battle played in a then-record four Olympics for the USA and her longevity in the sport spanned many great moments. Miloslav Ejem of the Czech Republic has influenced so many generations of coaches through his tenured leadership on FIVB commissions and his dozens of books. Sandra Pires helped make beach volleyball an international sensation by winning the first-ever Olympic beach volleyball gold medal with partner Jackie Silva in 1996. Roza Salikhova was part of the USSR's back-to-back Olympic Games gold-medal teams of 1968 and 1972 and was part of six USSR championships from 1970 to 1977."
"The class of 2014 honors a diverse group of legends from the last half-century of the game," said George Mulry, executive director of the Volleyball Hall of Fame. "These remarkable athletes and leaders have brought distinction to the sport over a number of years and we are humbled to honor them here in the birthplace of volleyball."
"This year's class represents the great diversity and sense of community within our sport as five countries are represented from three different zonal Confederations," said Al Monaco, co-chair of the Volleyball Hall of Fame Selection Committee. "We have legendary athletes from indoor and beach volleyball whose accomplishments spanned six Olympic Games, a coach who led his country to its first-ever Olympic gold medal in volleyball and a leader within our sport who shared his coaching knowledge for over 30 years. It will be a remarkable October evening as we induct these six individuals."
"Congratulations for induction into the Volleyball Hall of Fame!" Brazilian Bernard Rajzman, a 2005 inductee into the Volleyball Hall of Fame, said in regards to the six inductees. "It is recognition from our volleyball world of the great performances and outstanding contributions made by each one of you, enabling your name to be memorialized in the history of our beloved sport. Welcome to the Volleyball Hall of Fame of which I am deeply proud to take part!"
The Volleyball Hall of Fame induction festivities include a Mayor's reception on Friday, Oct. 17, at Wistariahurst Museum in Holyoke, followed by the Ring and Plaque Ceremony inside the Volleyball Hall of Fame from noon to 1:30 p.m. ET on Saturday, Oct. 18, with the formal Enshrinement Dinner and Ceremony taking place the evening of Oct. 18.
The Volleyball Hall of Fame, incorporated in 1978, continues to create a more representative institution with inductees of both genders and disciplines – indoor volleyball and beach volleyball – coming from a wide range of countries. For additional information on attending the 2014 Volleyball Hall of Fame induction ceremony, contact the Volleyball Hall of Fame at info@volleyhall.org or visit the Hall's website at VolleyHall.org.
Tara

Cross-Battle Biography
TARA CROSS-BATTLE (UNITED STATES) – FEMALE INDOOR VOLLEYBALL PLAYER
Tara Cross-Battle became the United States' first four-time Olympic Games volleyball player having competed in the Games in 1992, 1996, 2000 and 2004. In her debut Olympics, she helped the United States to the bronze medal in Barcelona. Cross-Battle competed in three FIVB World Championships (1990, 1994, 2002), winning the bronze medal in 1990 and the silver medal in 2002. She was instrumental in the United States winning gold medals in the 1995 and 2001 FIVB World Grand Prix, along with bronze medals in the 2003 FIVB World Cup and World Grand Prix. In 2001, Cross-Battle led the U.S. to the NORCECA Continental Championship and was named most valuable player in the tournament.
"I would like to personally welcome Tara to the Volleyball Hall of Fame!" said 2013 Volleyball Hall of Fame inductee Caren Kemner of the United States. "I was so blessed to compete with Tara in both the 1992 and 1996 Olympic Games. She is a ferocious competitor and a consummate student of the game. Tara possessed the ability to handle the game from the first contact to the last which served her well, not only as Olympian but professionally overseas and as someone who continues to give back to the game. Congratulations!"